Using GeoComply is essential for using DraftKings Sportsbook on desktop and mobile browsers. It verifies your location for legal sports betting.
Setting Up GeoComply
First, install the GeoComply plugin for your browser. In the DraftKings Help Center, select the correct plugin for your device. Launch GeoComply, which may request location access. Allow it to use your device's GPS.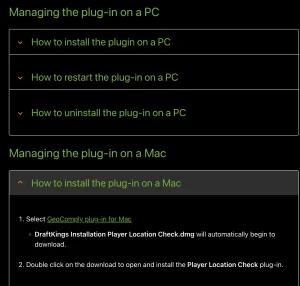 Location Verification Process
GeoComply uses GPS to confirm your location. It checks if you're in a state that permits sports betting. Without the correct location, betting on DraftKings is not possible.
Betting on DraftKings
After location verification, start placing bets on DraftKings. Bet on various sports teams and events.
Compliance and Security with GeoComply
GeoComply ensures users bet within legal areas. It's key for legal online sports betting. GeoComply also enhances security by preventing access from non-legal areas.
User-Friendly Experience
GeoComply's integration with browsers is smooth and user-friendly. The setup is straightforward, ensuring a hassle-free experience.
Support for GeoComply Issues
If you encounter issues, DraftKings offers comprehensive support. Visit the GeoComply support page or contact DraftKings customer support for assistance.
Access our full library of DraftKings help articles for more information or read our detailed DraftKings review. You can also jump straight to our list of the best sportsbook promotions for your state.