Caesars Sportsbook offers hundreds of prop bets for their customers to place.  Learn about what a prop bet is and how to place one with Caesars by watching our tutorial video below.
What is a prop bet?
A prop bet (or proposition bet), is a single wager on a specific outcome within an event. Prop betting lines are focused on specific results, such as points totals per player.
Prop bets are generally divided into three categories – player props, team props, and game props.
You can also find novelty props on games like the Super Bowl. Super Bowl prop bets might allow you to bet on things like the result of the coin toss.
Now that we've defined a prop bet, let's take a look at how to place Caesars Sportsbook prop bets.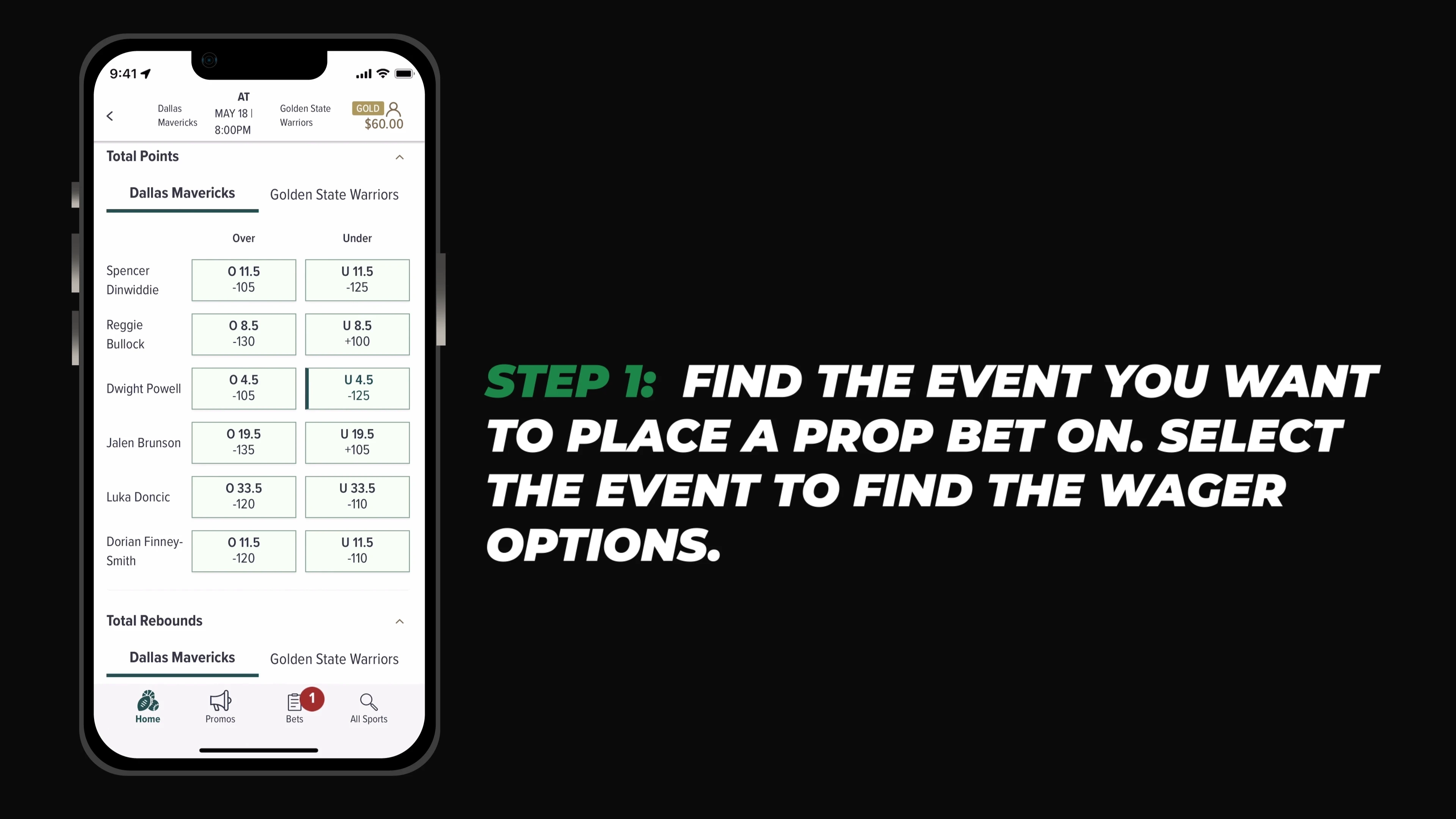 Step 1: Find an event
Once you have the Caesars Sportsbook App opened and are logged in, the first step is finding the event you want to place a prop bet on. You can search for the event by scrolling the home screen or using the All Sports Menu.
When you find your event, select the event to find all the wagering options. There you will see numerous categories of prop bets. In the video above, I'm betting that Dwight Powell will have under 4.5 points in the Mavericks vs Warriors game.
Step 2: Enter your wager
After selecting your bet, the second step is to enter the amount you want to wager. You can do so by entering the amount in the bet slip at the bottom of the page.
Step 3: Place your bet
The third and final step to placing a Prop Bet is pressing the "place bet" button at the bottom of the screen.
Congratulations, you have successfully placed a Prop bet on the Caesars Sportsbook App!
Caesars Sportsbook Prop Bets FAQ
Does Caesars Sportsbook have prop bets?
Yes. Click on a game line at Caesars Sportsbook to bring up the menu of available prop bets for that game. You'll generally find a robust selection of prop bet odds on a given game.
Does Caesars Sportsbook have player prop bets?
Yes. You can bet props on player statistics on most games at Caesars Sportsbook. For example, baseball game props might include lines on total hits or total bases for a listing of players.
Access our full library of Caesars help articles for more information or read our detailed Caesars review. You can also jump straight to our list of the best sportsbook promotions for your state.